Sacred Art in Pokhara?s Spiritual Community
Pokhara Lakeside was an inspiring place for us to share our growing passion for the beauty of number and patterns. Our venue was Zero Gallery where yet again the sun shone down on our session as we shared with trekkers, travellers and volunteers. Some of our participants really connected with the creativity of the mandalas, focusing time on precision drawing and thoughtful colouring. Others were engaged with the conversations about the meanings behind each mandala and the concepts related to sacred geometry.
Following on from our Kathmandu workshops, we introduced fractals once again through art, geometry, science and nature. As we explained how fractal patterns really are all around us, the workshop participants glimpsed the depth of our fascination with the geometry of our reality! We came away feeling so lucky to be able to provide an open platform for free expression, sharing ideas and spending time mindfully. Thanks to Zero Gallery for helping make such a platform possible with welcoming hospitality and a beautiful lakeside garden.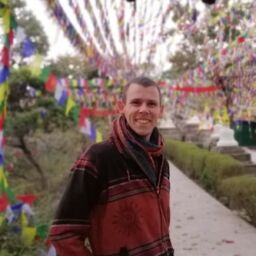 Alex left the UK in 2017 to travel to Asia, where he teaches English. He has a passion for sharing knowledge and inspiring creativity in others - from Vietnamese kindergarten, teens, and adults to friends and fellow travelers across the world. In 2018, he stepped into the Art of Sacred Geometry, a new found passion that he shares with his partner in life, Gem. As a teacher, Alex is always excited to experiment with different engaging and creative ways to get people learning: through mindfulness, music and movement as well as drawings and discussions of fascinating topics and ideas both in and out of the classroom. Alex recently qualified as a meditation teacher in the beautiful Himalayan hills of Dharamshala and is looking forward to integrating his new knowledge and outlook to workshops and classrooms alike.