DNX: a spiritual transformation for the business world?
I was attending one of my most favorite events in my home-country Germany: the DNX, one of the biggest conferences for digital nomads, people who want to start living location independent and a holistic lifestyle.
This was the 2nd time I was invited as a speaker, last year at the DNX global in Portugal and now the first time in Berlin. The conference counted about 1300 people on the first day and it was a great mix of different digital nomads, spiritual entrepreneurs, and many enthusiastic, like-minded participants. For me, the most exciting part was the fact that the event was filled with speakers such as Ellen Michels and Bahar Yilmaz, who talked a lot about the soul.
I was speaking on the workshop day. Here, I focussed on how a change of perspective and an understanding of metaphysical concepts enable us to get out of our conditioning. Sacred Geometry was playing its part to schematize these concepts, bringing more clarity into what we describe as a 'box'. Using geometry as a mind mapping tool unified with Creative Visualisation and Mandala Chanting Meditation, the session ended on a spiritual high.
Besides the talks and workshops, it was great to connect with familiar faces and making new friends, especially when Sacred Geometry is becoming part of the conversation. One of those was with the founder of QiBlanco, who produces necklaces using the golden proportion. These have an energetic effect on water molecules to reorganize themselves into a geometric formation, which in turn, creates protective layers against digital smog. I was wearing the necklace for about 15min and could already feel a warm energy on my chest. This example just shows how the application of geometric principles can lead to really good and innovative technologies.
I also had a great conversation with one of the other speakers and host of the main event, Robin Stolberg, that started with a Mandala tattooed on his arm. He interviewed me for his Podcast 'Mindful Upgrade' a few days later and we talked a lot about Sacred Geometry and Metaphysics and its application in our daily lives. Check it out >> Podcast Interview (German).
I'd like to thank Marcus Meurer (Sonic Blue) and Felicia Hargarten (Yara Joy) for this special event and I am very happy to see them spreading the spiritual vibes up to the business world. 🙂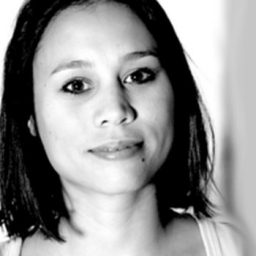 Heike studied Biotechnology and received her phD at the Institute of Pharmacology and Toxicology in Freiburg, Germany. In 2014, she quit her job and started to travel the world. In India, she discovered the Yogic philosophies and started practicing Sacred Geometry. Upon diving deep into metaphysical studies, she realized the connections of ancient wisdom and modern science. Together with Colin, she developed a teaching format that pursues a holistic worldview combining her passions for science, art, and spirituality. Currently, she lives location-independent and spends most of her time in Goa, India, and Nepal, where she runs workshops, courses and gives talks.